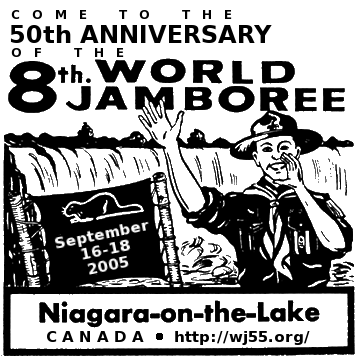 8th World Scout Jamboree 1955
Celebrating 50 Years
On September 16-18, 2005, attendees of the 1955 World Scout Jamboree, current Scouts, other supporters of Scouting, and the public gathered at the original Jamboree site to celebrate the 50th Anniversary of the WJ'55. Scouting and civic dignitaries were on hand to recognize the significance of the anniversary and to express the continuing importance of Scouting to Canada and to communities world-wide. The celebration was held jointly with the Scout Brigade of Fort George, a War of 1812-themed camp which annually attracts over a thousand Scouts from Canada and the United States. The event was officially recognized by Scouts Canada and the Scouts Canada Foundation.
A permanent monument was unveiled to mark the site of the "Jamboree of New Horizons", as it was called. This web site contains stories and photographs of the 1955 Jamboree and the anniversary selebrations, and an archive of information about the 50th Anniversary celebrations.
Eighth World Scout Jamboree
In 1955, the Eighth World Scout Jamboree was held in Niagara-on-the-Lake, Ontario, Canada. This was the first major international gathering of Scouts outside of Europe. Over 11,000 Scouts attended from 71 countries around the world. The Jamboree of New Horizons, as it was called, was held in a tent city next to the recently reconstructed Fort George National Historic Site.